Charity Events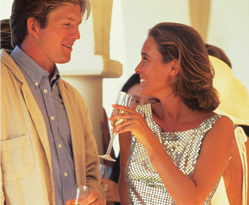 Are you or an organization in which you are a member organizing a Charity Event? Let BDM Productions help make your event planning easier by handling all of your entertainment needs. Our full sound and lighting systems can handle events from 200 to 10,000 people! Our experienced staff of DJs can provide music to entertain any type of crowd. A member of our staff will set up a personal meeting with you to discuss the type of event being planned, type of crowd expected to attend, the musical playlist, the size of the event, and overall general information about the event. In so doing, BDM Productions will be able to provide your Charity event exactly what it needs to be the event of your dreams!
Want to get started? It's easy!
Click the information tab to send an email asking additional questions about your charity event.
Click the information tab to set up a personal meeting with a BDM Productions event planner.
Click Get a Quote and fill in general information about your charity event to receive a list of entertainment package options we offer.
YES It's Really That Simple!
OUR DJS
Our DJs have years of experience in performing at Charity Events. Unlike many mobile DJ companies, all of our DJs are skilled turntableists. This means you will never see one of our DJs show up at your Charity Event with just a laptop. An Ipod could do that just as easily. Our DJs at BDM Productions pride themselves on the quality of their performance and on their ability to mix, blend, and transition any styles of music together. By having this skill set, we are able to provide you with the ultimate entertainment experience for your Charity Event.
OUR MUSIC
Our music catalog consists of over 150,000 songs! We have every top billboard hit from the 50's, 60's, 70's, 80's, 90's, and present day. In addition, our catalog holds music from every major genre such as Rock, Classical, R&B, Dance, Country, Contemporary, Rap/ Hip Hop, Top 40, Pop, House, Electro, Ballroom, Swing, and alternative. Moreover, a member of our staff will sit down with you prior to your wedding to discuss the playlist. If we do not have the particular selection you want in our catalog, we will go out and buy it specifically for your Charity Event at no additional charge! Whether you would like to choose every single song, let our DJs use their judgment, or a combination of both, BDM Productions can meet all your musical needs.
OUR SOUND AND LIGHTING
At BDM Productions our sound and lighting systems are state-of-the-art. We use the most current and top of the line rack mount and LED lighting systems. All of our lights are motion and sound censored so that they rotate, change shape, change image, and change color to the beat of the music! Our sound systems are unmatched. We use a combination of JBL and Mackie powered speakers and subwoofers to provide more than adequate sound for your Charity Event.